Never did I ever, ever, ever think I would EVER post about a recipe on this here blog of mine. Never. Not in a million years. But here I am, doing exactly that today! I'm sharing my most favorite way to prepare vegetables because we've been eating different varieties of this meal every day these last two weeks and I would love some input on other options we could try if you've got any for me!
Parker and I have been trying to eat healthier (a constant battle) and exercise more to feel a little bit more confident before we have to debut our beach bodies in Vegas in a few weeks (spring break with my family!! Cannot wait!) so I've been roasting every vegetable I can think of. So far I've roasted the following: broccoli, cauliflower, cabbage, onions (my favorite. They are like candy when made this way), red/yellow/orange bell peppers, carrots, and zucchini. I know the little red or golden potatoes are really good roasted as well (easily my all time favorite), but I'm trying to cut out some carbs/starchy foods at the moment so I haven't done those lately.
Image
via
. Most delicious rainbow ever :)
Here is how I roast my veggies:
Line a cookie sheet with tinfoil.
Chop up all the veggies however you desire and spread them out over the cookie sheet.
Pour a little bit of olive oil on top and spice with salt and pepper.
Bake at 425 degrees F for about 30 minutes (depending on what you are roasting. Carrots I've noticed need a little longer, where as cabbage and zucchini need the least time).
Remove from oven, stab with a fork to make sure all of the vegetables are cooked throughout and sprinkle with some grated parmesan cheese and voila! The most delicious medley of vegetables ever!
I've roasted veggies almost every night the last two weeks (with varying kinds of protein) and it's my favorite meal right now!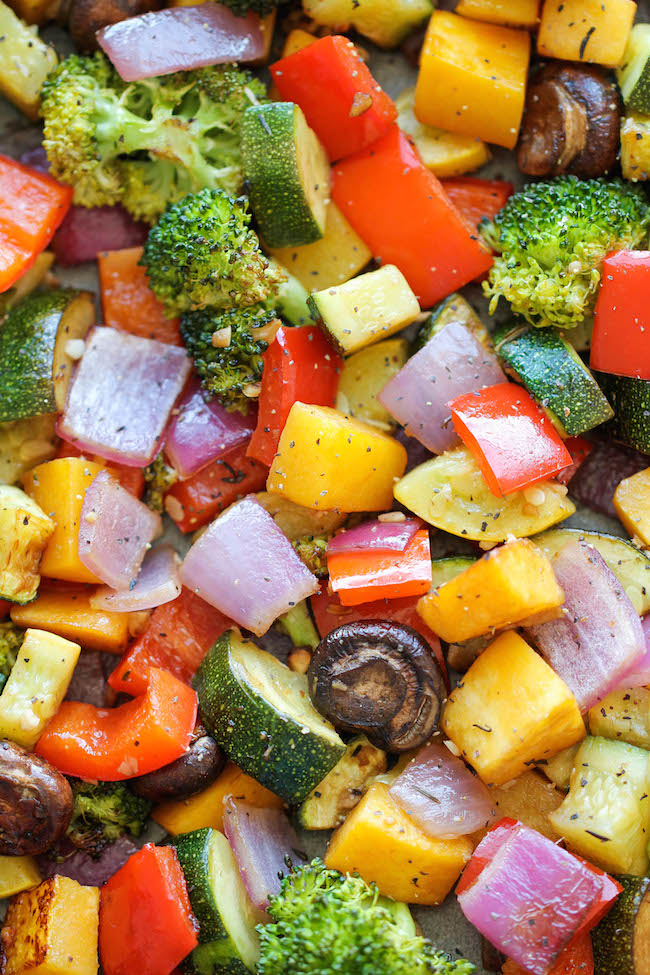 Image
Via
. Don't these look fabulous?! This is usually similar to how my roasted vegetables look too, but my food photography skills are terrible lol
What is your favorite healthy meal or snack right now? And how do you keep yourself on track with your fitness/health goals? Happy veggie roasting!